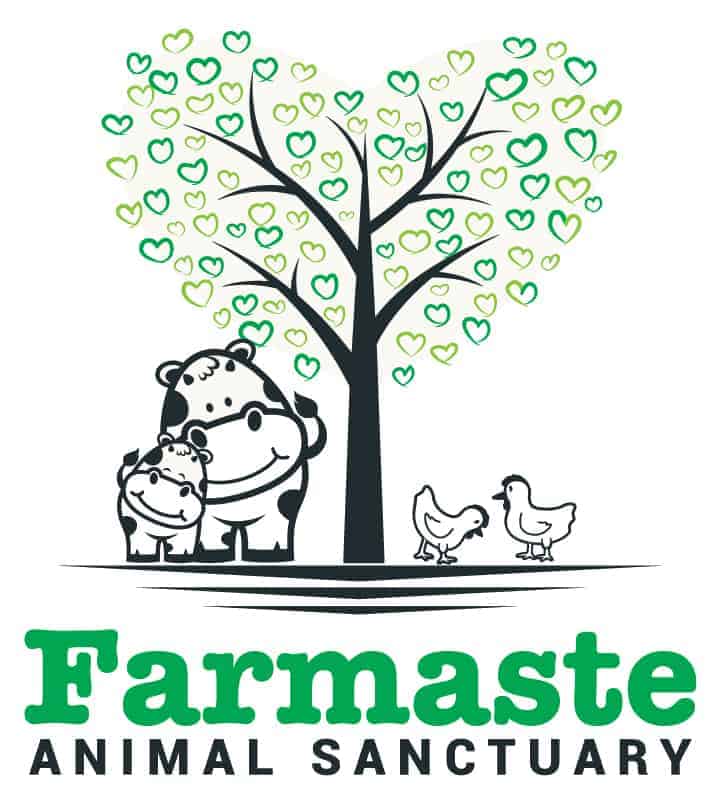 A Caring Farm Animal Rescue Organization
We at Farmaste Animal Sanctuary believe that all animals have inherent worth, and that farm animals are not an exception to that rule. We work to rescue farm animals from cruelty situations, and bring them to our 79-acre farm in Lindstrom, MN. There they are allowed to roam in the pastures, and live out their days free from cruelty. Farmaste Animal Sanctuary also provides an opportunity for people to meet the animals and hear their stories through our scheduled tours, farm events, and volunteer opportunities.
We are a nonprofit organization that is supported by volunteers and fully funded through donations.
If you are an animal lover, and can commit on a weekly basis to help care for the residents, please contact us for animal care volunteer opportunities. (Previous large animal experience a plus.)  We also welcome individuals and organizations who are interested in volunteering on a less regular basis. You can join us for a Saturday barn cleaning, or a work day event that can accommodate groups of up to 20 people.   Find out more information on volunteer opportunities, and age requirements, here: https://farmaste.org/volunteer/volunteer-opportunities/ or email us directly at volunteer@farmaste.org.
If volunteering in person does not fit into your schedule, there are many other opportunities to show your support.  We have sponsorship programs where you can sponsor one of our residents by making a monthly donation. There are various levels of sponsorship available, and each comes with incredible perks including private visits with the animal you sponsor so you get to spend one-on-one time with them. We also have t-shirts and sweatshirts for purchase on our website that you can wear to show your support for Farmaste, and an Amazon wish list with items to support the residents.
Farmaste is a federally registered non-profit organization, a 501(3)(c), and your donation may be tax deductible depending on your situation.
Follow us on social media, tell your friends about us, and sign up on our contact page to stay updated about our growing farm animal family.
Categories: All Listings, Non-Profit
12812 347th St
Lindstrom, MN 55045
0